Special Thanks to:
Saba Kennedy Washington- My Coach who introduced me to the Fashion/ Runway industry.
Keith Burns from Carolina Talent for accepting me into the agency.
Mike Eaddy, the best photographer also my best friend who makes my frowns turn upside down. Thank you so much Mike, for being so patient and flexible with me.
Terrill Hinson, another great photographer, also owner of 32 skybars around the North Carolina area. Thank you so much Terrill for letting me be apart of VelvetNights!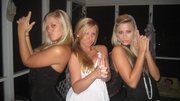 Richard O'Sullivan, who directored the pilot for The Traveling Man. Thank you for giving me the opportunity to be apart of the Traveling Man.
Aleks West, my wonderful cousin who has helped me through alot. I love you so much.